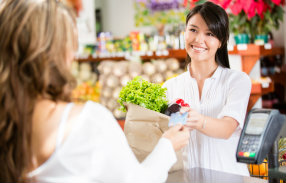 EMV Debit Cards
Over the course of 2016, Countybank customers will begin seeing the new Europay, MasterCard and Visa (EMV) microchip technology on all Countybank debit cards. The EMV standard provides enhanced security for transactions requiring a card reader terminal and is accepted in more than 130 countries.
When your new chip card arrives, you'll notice a small golden imprint on its face. This is where the microchip is located -- it also signifies a shift in the way you use your card.
How it works:
When using an EMV compatible card reader, you will insert the card -- microchip facing up -- into the EMV slot.

Leave your card inserted and follow the prompts on the screen.

Once your transaction has been approved, you'll sign the screen or receipt to confirm.

Finally, you can remove your card from the machine.
Note: All EMV chip cards come complete with the familiar magnetic stripe and thus are still compatible with old and new card reader terminals.
For more information about EMV chip card technology and how it affects you, we recommend watching this 2-minute video explanation.
For any questions regarding EMV chip cards or your existing Countybank card, please contact Customer Service at 864-942-1524 or 800-726-8689. Frequently Asked Questions