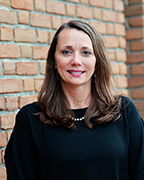 Jennifer Johnston
Vice President & Mortgage Consultant
Office: 864-942-1532
Mobile: 864-942-1532
Fax: 864-227-5191
[email protected]
NMLS #: 475833
Jennifer Johnston is a Vice President and Mortgage Consultant for Countybank Mortgage. She joined the team in 1996 and has more than 23 years of lending experience. Jennifer has been instrumental in helping thousands of people obtain homeownership. She received her Bachelor's degree in marketing from the University of Georgia. Jennifer is lifelong Greenwood resident and lives with her family on Lake Greenwood. She is active member of the Greenwood Association of Realtors.
Customer Quotes
"Jennifer was extremely pleasant and professional. Communication was excellent. She was willing to go out of her way to make the refinancing process run smoothly in a timely manner."
– N. Brennan, Greenwood, SC
"Jennifer and other staff at Countybank were phenomenal at assisting me to buy a property coming from another state with a limited time frame to accomplish the task."
– D. Worley, Greenwood, SC
"As a busy professional, I needed a loan officer that would guide me through the home buying process as quickly and efficiently as possible. Jennifer did just that."
– L. Pajak, Ninety Six, SC