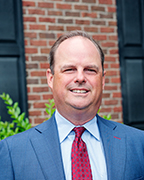 JD Nelson III
Mortgage Division Manager
Direct: 864-331-2212
Office: 864-234-5626
Fax: 864-234-8296
[email protected]
NMLS #: 89658
JD Nelson is a Senior Vice President and Mortgage Division Manager for Countybank Mortgage. JD was a principal partner of First Palmetto Mortgage, which Countybank acquired in 2010. He brings more than 30 years of mortgage lending experience in the real estate field. JD received his Bachelor of Science degree in Business Communication from The Citadel and is a native of Greenville, SC, graduating from Riverside High School. JD has worked in South Carolina, North Carolina, and Nevada but loves to call Greenville home. He is active in the community as a member of Thornblade Country Club and also serves on the Board at Northwood Little League.
Customer Quotes
"JD was very detailed and explained every step of the way so that we could understand what all was involved with the process. He made it very simple and easy on us. I would highly recommend JD to anyone I know considering a mortgage."
– C. Connor, Greer, SC
"JD is professional and dependable but very personable and approachable at the same time. He made a potentially stressful situation very comfortable. I would recommend him to anyone who is considering buying a home."
– L. Matthews, Liberty, SC
"JD was the most informational and helpful person. I never went a day with questions unanswered. Being a first time homebuyer financing by myself, I had so many questions, but with JD everything was so smooth and went flawless."
– R. Edge, Greenville, SC