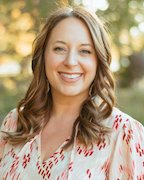 Gina Parrish
Mortgage Consultant
Direct: 864-331-2181
Mobile: 864-706-8042
Fax: 864-331-2186
[email protected]
NMLS #: 1950521
Gina Parrish is a Mortgage Consultant for Countybank Mortgage. She joined the team in 2020. Prior to joining Countybank, Gina worked for a top Fortune 500 company as a Business Account Manager and has more than 8 years of experience in sales and marketing. She received her Bachelor of Science in International Business and Bachelor of Arts in Spanish from Converse College. Gina is from of Spartanburg and a graduate of Dorman High School. She now lives in Greenville and enjoys her time exploring the Upstate with her husband and twin boys.
Customer Quotes
"Gina is the perfect balance of professional and personal. She took a vested interest in my application, answered my every question, and made sure I felt comfortable at every step. I would not recommend anyone else."
- Sarah H.
"Gina was such a pleasure to work with. She was so responsive and always answered any questions we had. This was the smoothest loan we have ever had. Thank you for such an easy and stress free home buying process!"
- Natalie G.
Gina Parrish helped us purchase a home after many years of renting. It was a smooth, easy, process and we are so thankful for her kindness and caring in helping us achieve homeownership again. Gina was amazing and I will highly recommend her to all our family and friends!
- Stephanie B.
Me and my family want to really thank Gina for going above and beyond. I was scared to refinance, because I didn't want to have to jump through hoops, Gina did not ask for much other than personal information. She took care of everything else for me and stayed in contact the whole time. If someone is interested in buying or refinancing, I highly recommend her!
- Chandler G.
Realtor Quote
"Gina is very knowledgeable and communicates not only to her buyers but all parties involved. Smooth transaction."
- Crystin C.